Sonoma Stage Works
HISTORY


Sonoma Stage Works, founded in 2009 by Todd Evans and Jaime Love, has produced six plays in the last five years. In 2010 it joined the theatre collective, Sonoma Theatre Alliance, which has produced a summer festival of plays each summer at The Rotary Stage at Andrews Hall of the Sonoma Community Center. This festival has expanded to an eight-month season beginning in April of each year.

Founded with the purpose of producing original plays of an entertaining and thought provoking nature, two of the plays have been written by playwright, Todd Evans. (see brief description below) In 2013 SSW sponsored PlayFest, a 10 minute and one-act original play contest for playwrights from Northern California.

Many local actors and directors have been involved in these productions. Of late SSW has reached out to the broader Bay Area to recruit its actors and tech staff.

Recent Productions:

2009 - Battle Road by Todd Evans, a historical play set in New England at the time of the American Revolution. The play documents the role of African-Americans in the revolution and the struggle of colonists to sort out who stands for independence and who favors British rule. Spies and bar maids spice up the action.

2010 - Last Hurrah of Horace Packard by Todd Evans, follows an octogenarian escapee from a mental ward as he seeks to shape a new life for himself in his Ohio town. His alliance with a restaurant owner, stubborn refusal to revisit his family, narrow evasions of the police and fits of whimsy and forgetfulness surface many of the predicaments of the ageing. All is well that ends well. Video links.

2011 - Odd Couple by Neil Simon. This madcap pairing of two personality opposites is loaded with laughs and comic situations. The eccentric card playing buddies and the appearance of the Pigeon sisters heighten the tension between Mr. Neat and Mr. Slob, (a man of fancy), and suspense continues to build until there's an amicable parting.

2012 - Lobby Hero by Kenneth Lonergan. It all happens in the cooker of an apartment building lobby. We are never sure who is the hero. Could be the lady cop, the lobby security card, or his supervisor. It's certainly not big cop, ready to cash in everything for his promotion. Each of the characters alternately clash and rub against one another in a dialogic attempt to establish relationships.

2012 - Kitchen Witches by Caroline Smith. Two cooks wage war over who will be top dog on a televised cooking show. The director is befuddled and confounded as a peacemaker and the TV guy may steal the show. There are plenty of high jinks sprinkled throughout including audience members recruited as guinea pigs. This show is a great night out.
2013 - Troublesome Creek, by Todd Evans. Set in the Eastern hills of Kentucky, 1962, this play surfaces the fractures in a small town when the interests of big business collide with family values. Rachel Carson makes a visit and brings her wisdom to bear on the proceedings, only to be undermined by a loose canon high roller who will never settle down. Who wins this battle of wills is a flip toss right up to the finale.

PlayFest 2013 - The finalists from a staged reading of June, had a full stage production. This is a bi-annual event.
In 2013 Sonoma Stage Works produced Playfest. Click here for details.
2014 - The Many Faces of Love by Tennessee Williams, Susan Glaspell and Romulus Linney. Presented by Sonoma Stage Works. DIrecrted by Joey Hoeber, Bill Shea, Julia Holsworth. Produced by Todd Evans. The four plays gathered under the theme The Many Faces of Love, are as in a kaleidoscope, refractions of the much used, and sometimes abused word "love." These plays are not about love in the abstract -- they involve living and breathing folk finding their way in life, sometimes bouncing off one another in the effort to inject love into the equation of their lives.
• Songs of Love by Romulus Linney, director - Julia Holsworth
• Moony's Kid Don't Cry, by Tennessee Williams, director - Joey Hoeber
• Trifles by Susan Glaspell, director - Bill Shea
• Can Can by Romulus Linney, director - Joey Hoeber
GET INVOLVED

Sonoma Stage works is always looking for individuals who want to make theatre happen in Sonoma. Stage builders, theatre tech, stage managers, publicists, underwriters, actors, play readers and directors. If you are interested please contact Todd Evans.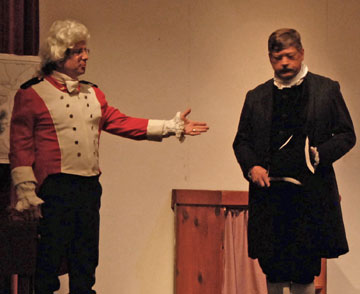 Battle Road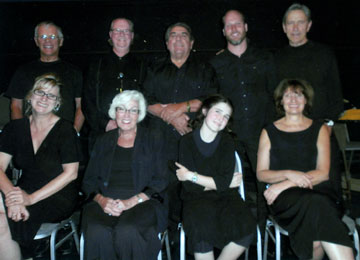 Cast for staged reading of Troublesome Creek
2015 - Proof played to standing ovation audiences for 12 performances in late August/early September 2015. The staging was executed by George Weiner, lighting by Steve Hagstrom.
Actors: (Click here for cast photos)
Catherine - Libby Oberlin
Robert (Catherine's father) - Jim McFadden
Hal - Paul McKinnon
Clare - Susan Lee
Stage Manager - Laura Jovino, Costumes - Roxie Johnson, Props - Tami Nottingham.
Proof was directed by Todd Evans.
ADDRESS: 19201 Sonoma Hwy. Suite 297 • Sonoma, CA • 95476

TELEPHONE: (707) 481.4588
Email for more information.
For webmaster, click here.
Visit us on FACEBOOK